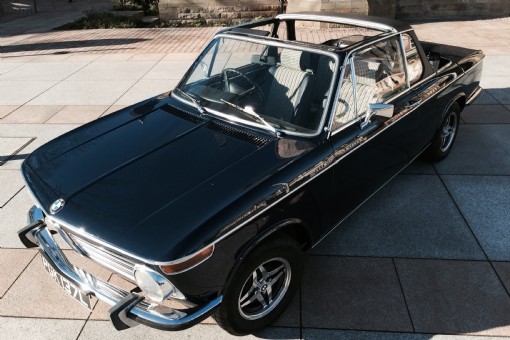 1973 BMW 2002
Classic Car Hire from Northumbria Classic Car Hire
The 02 series 'new class' were produced between 1962 and 1971, establishing
the identity of BMW's sporting coupe. Our 02 has been completely rebuilt by the
marque specialists in the 1990s and carefully driven since. Much smaller than
modern 3 series cars but with 4 seats (rearseats for 'small adults'), and with a
large boot. Our 02 has been converted to twin Webers sportier camshaft bringing up to Ti spec. A fun and practical car that is a bit of a crowd puller when parked- there are less than 50 of these convertibles left on the road in the UK.With the Targa top removed and rear hood left up you won't spoil your hairdo!
Date
1973
Colour
Dark Blue
Make
BMW
Seats
4
Model
2002
Man/Auto
Manual 5 speed
Body
Targa
Engine
2.0 Twin Weber Ti spec
Location
Northumberland, Newcastle & Durham