Ultimate Driving Experience
Your favourite classic car
Imagine driving your favourite classic car through the glorious British countryside. Fantasise about sitting behind the wheel of an iconic 1960s sports car with the wind in your hair, or cruising in luxury in a Rolls Royce or other grand saloon. You've probably never thought that this could ever be possible without re-mortgaging the house or looting the kids' trust fund. And if you bought the car of your dreams, where would you keep it and how would you maintain it?
There is another way
The Historic and Classic Car Hirers' Guild currently consists of seven established classic car rental businesses, five in England and two in Scotland, all of which are in a position to fulfil such a fantasy. Your dream, or that of your partner, parent or friend can become a reality simply by picking up the phone or writing a short e-mail.
Guild member companies can be found in Cornwall, Kent, Wiltshire, Suffolk, Yorkshire, Dumfries and Clackmannanshire.
With over 50 cars in the Guild's fleet, you can experience driving the legendary Bond car, a 1960s Aston Martin, or many men's childhood dream machine, Jaguar's sensational E Type. Maybe cherished memories of owning an MGB as a youngster drives an ambition to try one again or perhaps a trip to the races or a stately home in a glorious Bentley or Jaguar saloon would be a perfect day out.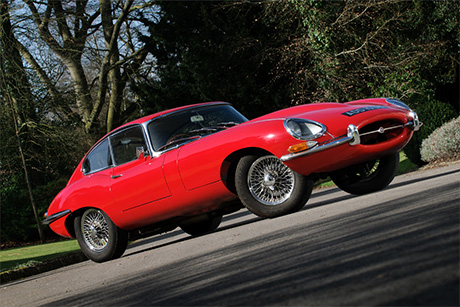 It's a simple process...
Having contacted your chosen company, and reserved the car for your required dates, all you have to do is turn up and collect your dream car. No maintenance necessary, no insurance to arrange, no cleaning and polishing required. After a test run and some basic instruction, you are free to drive off as you please or follow a suggested route.
Take a classic motor car off the busy British highways and find more interesting and challenging routes on delightful and scenic B roads. It may take a little longer, but, isn't this what its all about – going back in time, taking things a little more leisurely, enjoying some British weather (good or bad!) and Living The Dream!